LYNDDAHL receives great recognition
Among more then 2200 suppliers, LYNDDAHL last week received a great recognition as supplier for the HUSQVARNA Group.
A delegation from LYNDDAHL received the award at the yearly 'Supplier Day' in Munich, were only 92 of the 2200 suppliers are invited. Each year 6 suppliers are honoured in 6 different categories and this year LYNDDAHL got the victory in the category 'SUSTAINABILITY'.
This supplier recognized that sustainability is getting a more and more important topic in daily business and work. The successful businesses of tomorrow will be those that lead and create value both inside and outside of the company.
Through small steps as well as bigger initiatives within production and logistics, this supplier has taken great measures to improve their environmental footprint.
Through clever use of resources and elimination of waste, they have shown that it's possible to run a successful business in a sustainable way.
This supplier commits to improve their competitive position by ensuring that all methods and products are developed, produced and distributed with the least possible environmental impact and consumption of resources. So they could decrease their energy consumption by more than 30% during the past year by installing an entire new ventilation and cooling system.
Antje Müller, HUSQVARNA Group
LYNDDAHL delivers garden and technical hoses to HUSQVARNA Group, which also counts the well known garden brand, GARDENA.
'Sustainability has become a more and more essential subject many agendas and vi are therefore very proud in receiving this award as well as the fact, that we are first mover' - CEO Rasmus Lynddahl
'We shall use this award as lever in the global competition. We supplies many big companies and now we have the possibility to promote the company LYNDDAHL even more' - Sales Manager Kurt B. Hermansen
Facts HUSQVARNA Group:
HUSQVARNA Group is a large Swedish group and with a turn over on more then SEK 30 billion, they are market leader in products for construction and forestry (professional use) as well as garden (hobby).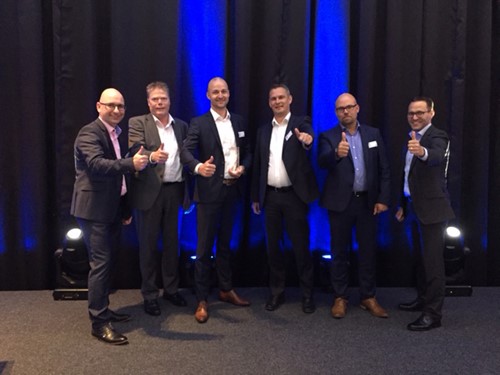 Proud people from LYNDDAHL surrounded by representatives from HUSQVARNA Group
---